Not long til we're all basking in the glow of the summer sun (come on Mother Nature!) and the Wedding Season gets properly under way. It's going to be a busy summer for the Gillan Edgar Party band with plenty of couples having already snapped us up to get their parties going after the nuptials have been exchanged and the (dreaded?) speeches are done and dusted…
I had a great response from Tatton – I'm in the process of arranging a 'public showcase' for all the couples that want to experience the Gillan Edgar Party Band in real life. It's going to be within the next month or so – keep your eyes peeled for the mailout when it arrives…
Still plenty of acoustic solo gigs for you to come and see what I can do by myself however – you're always welcome to come down and shout out a few requests! See listings at the bottom of the post.
I recently went into Studio G to rehearse a song that's been requested by one of my Brides – Make You Feel My Love, in the style of Adele. Rebecca Reville came along to capture some of the process and we ended up making a bit of a 'Live Lounge' video of the song. As soon as Vimeo starts playing ball, I'll post it here – check back in a few days to have a look. To whet your appetite, here are a few shots from the finished article: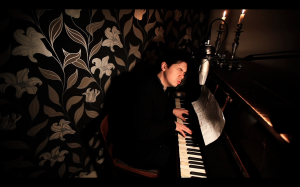 Stay happy and enjoy the earlier sunrises we seem to be getting…
All the best,
Gillan
Live solo acoustic at The Comedy Store:
5th March
30th April
14th May
Free entry, sets are 9:30 – 10:00 and 11:00 til late.